BERTSCHAT® - Heated Vest - Bodywarmer PRO
|
Voor 23:45 besteld = morgen geleverd!

Tel. klantenservice: 10:00-18:00

Altijd gratis verzending!
Information
BERTSCHAT® Heated Vest - Bodywarmer PRO
The winter season, beautiful, but too cold to go out for a cycling or walking tour? Or do you think winter sports are the best there is, but the cold keeps gnawing at you? Then this BERTSCHAT® Heated Undervest offers the solution. It offers extra warmth to get through the cold days. The BERTSCHAT® Heated vest is supplied with energy by a power bank (not included as standard). You can simply connect the power bank and store it in the inner pocket. Then you press the vest and choose the desired position and you will never be cold again!
Power bank / battery:
The BERTSCHAT® heated vest works with a USB 5V Powerbank. You can use any 5V USB source to heat the vest. The more mAh this power bank has, the longer the vest will heat. Note: to generate the maximum heat, the power bank needs a minimum 2.1A output. Don't have a power bank yet? Then you can easily order them here or below with related products.
Design:
The BERTSCHAT® vest is wind and waterproof. This cardigan can be worn normally, but is designed so thin that you can wear a normal jacket / sweater over it. This way your jacket / sweater works as an extra insulation layer. This is the warmest possible solution.
The ideal temperature:
With the push button on the chest you can switch between the three different settings, so you can always determine the most pleasant temperature.
Characteristics:
Vest can be connected to any power bank. (2.1A output is desired to generate maximum heat)
Heating: I = 40-48 ℃, II = 50-58 ℃, III = 60-68 ℃.
5x heating elements on tactical cold spots. Two zones are located in the lower back, one between the shoulder blades and two at chest height
Two sizes fits all.
Unisex model: for both men and women
Suitable for: Winter sports, Cycling, Electric bicycles, Speed ​​pedelecs, Raynaud's phenomenon.
Material: PU water / windproof layer + 100% polyester extra soft, warm inner layer.
Supplied without power bank. You can connect your own power bank here or order one below.
Size label:
The BERTSCHAT® Heated Vest is adjustable in size, due to the push buttons on the shoulders and the zipper on the sides. Two sizes fits all have been chosen for the ideal fit.
Fit 1: suitable for sizes from XXS to M
Fit 2: suitable for sizes M to XXXL
Choose your normal size what you always have, then this vest will fit! Do you have size Medium? Then both vests will fit you. If you are taller than 1.70, we recommend Fit 2 because it is longer.
Click on the logo below to read the reviews of all our customers.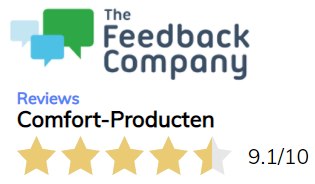 Reviews
average of 22 review(s)
By
:
M.B.
Date
:
06/03/2021
Onlangs besteld en eventjes op moeten wachten maar is zeker de moeite waard. Uiteraard werd ik wel netjes op de hoogte houden over de vertraging en werden mijn vragen over het vest, na levering, prima, snel en duidelijk beantwoord.
Ik zal hier zeker nog bestellen !
By
:
Evert van Drie
Date
:
09/02/2021
Echte aanrader voor iedereen! Word zo lekker warm, gewoon eenvoudig onder mijn trui, stand 2 meer dan voldoende
By
:
Jan Adams
Date
:
19/01/2021
Eerst de reviews gelezen en erop gewaagd, echt een warm vest. Met grote verwarmingsoppervlakken, niet meer koud tijdens het uitlaten van de honden.
By
:
Chantal de Noord
Date
:
03/01/2021
By
:
John Vijver
Date
:
17/12/2020
Wat een heerlijk product. Voor heel wat collega's besteld, helaas nu uitverkocht. TOP warmte!
By
:
Dirk Vermeulen
Date
:
18/11/2020
Heel vriendelijk ontvangen. Prima product.
By
:
Tieneke de Lange
Date
:
05/11/2020
ERg prettig dat het vest verstelbaar is en wordt heel warm, fijne powerbank bij geleverd
By
:
andre van goor
Date
:
26/10/2020
Op telefonisch aanraden voor het vest gekozen in plaats van de verwarmde trui. En inderdaad het vest word goe dwarm!!
By
:
Joelle Pieters
Date
:
15/10/2020
Vest als kado voor mijn man, heeft er veel plezier van en gebruikt m dagelijks
By
:
John Van Dee
Date
:
05/10/2020
By
:
Jgdewildt
Date
:
03/10/2020
Super snelle levering! Prima draagcomfort, is fijn onder een vest te dragen!! Zeer tevreden!!
By
:
R. van Doorn
Date
:
24/09/2020
Snelle levering. Product doet wat ze zeggen. Had zelf nog een powerbank thuis en daarmee wordt het product verwarmd.
By
:
Andres Henckens
Date
:
10/09/2020
Zeer positieve ervaring, snelle levering, netjes verpakt, de producten zijn top in orde!
By
:
Zenna
Date
:
10/09/2020
By
:
S. A. Bloo
Date
:
04/09/2020
Doordat het vest verstelbaar is past die goed, ideaal om onder m'n trui te dragen tijdens het skien. zit lekker
By
:
Noor
Date
:
08/01/2020
Hele fijne bodywarmer. Al een aantal jaar heb ik door mijn chronische aandoening last van onderkoeling. Deze body warmer heeft kwaliteit én is betaalbaar
By
:
Yente
Date
:
07/11/2019
Het vest verwarmd zowel voor als achter. Pluspunt dat je je eigen powerbank kunt gebruiken. Volgende dag in huis. Bedankt.
By
:
Angelique Zonneveld
Date
:
04/10/2019
By
:
Walter
Date
:
24/09/2019
Duidelijke website, je wordt goed op de hoogte gehouden van de status van je (snelle) bestelling

By
:
Lambrigts Kollmann
Date
:
06/02/2019
Vliegensvlugge levering! Tevreden en zal zeker vaker bestellen.
By
:
F. van Kempen
Date
:
10/01/2019
Voor het eerst een verwarmde bodywarmer gekocht. Goed geholpen bij het maken van een keuze. Er werd meegedacht wat de beste optie zou kunnen zijn. Vriendelijk en klantgericht