BERTSCHAT®
- €40
BERTSCHAT® - Heated Vest - Bodywarmer PRO
BERTSCHAT® Heated vest - body warmer PRO
Ordered before 23:45:00, delivered tomorrow
1 jaar garantie op uw product
Binnen 14 dagen te retourneren
More information? Contact us about this product
Product description
BERTSCHAT® Heated Vest - Bodywarmer PRO
An advanced version of the heated under vest was released by BERTSCHAT® in 2021. The vest, which can also be used as a body warmer, can be adjusted at the sides using zips and at the shoulders using Velcro. This makes the heated under vest ideal for cycling and hiking as well as outdoor work.
Heating areas
The vest has five large heating zones, which have been tactically positioned so you never have to feel cold again.
Two zones on the chest
Two zones in the lower back
One large zone on the upper back.
Powerful power bank
Given the enormous size of the heating surfaces and the heat that may be released, the electric vest comes with a powerful power bank. You can choose between two different types, namely the 6,600 or 10,000 mAh power bank. The 10,000 mAh power bank has about 40% more power and can therefore heat for a longer period of time.
Temperature regulation
For optimum heat comfort, we recommend using the 2A output of the power bank. The 2A output releases more energy, thus enhancing the performance of the vest. The temperature can be set by simply pressing a button, which allows you to adjust the vest to three different heat settings. The heating wires can reach a temperature of 68 degrees.
Do you want to heat at the highest setting for a long period of time? If so, we recommend buying the 10,000 mAh power bank. You can also choose to order an additional power bank, which enables non-stop heating. The power bank can be easily recharged with the included USB charger, so you can also charge while on the move.
Suitable for:
The under vest is ideal when worn under something, for example your jumper or (work) jacket. This creates an additional insulation layer, which increases the warming effect. The vest is suitable for: hunters, athletes, hikers, cyclists, winter sports enthusiasts and people who work outdoors.
Features:
Included: powerful power bank (6,000 or 10,000 mAh) + USB charging system
Extremely thin: ideal for wearing under your existing jumper or (work) jacket.
5 large heating zones (unbreakable Carbon Fibre)
Adjustable to three heat settings
Material: PU- wind/watertight layer +  100% polyester, extra soft, warm inner layer.
Up to 10 hours of heating on a single battery charge. 
Unisex model
Size label:
The BERTSCHAT® Heated Vest can be adjusted in size using the press studs on the shoulder and the zips on the sides. For the ideal fit, we have opted for two sizes fit all.
Fit 1: suitable for sizes XXS to M
Fit 2: suitable for sizes M to XXXL
If you select the size that you normally wear, you can be sure that it will fit! Do you wear size Medium? In that case, both vests will fit. If you are more than 1.70 metres tall, we recommend Fit 2 because it is longer.  
Click on the logo below to read the reviews of all our customers.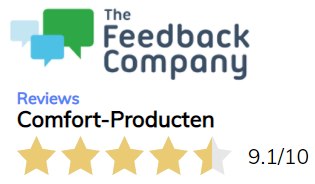 Product information
| | |
| --- | --- |
| Brand | BERTSCHAT® |
| SKU | 8720165969463 |
| EAN | 8720165969463 |
5,0/5
average of 24 review(s)
Volgende dag in huis ondanks de drukke dagen. Vest wordt aangenaam warm. Ik draag het onder mijn dikke winterjas waardoor de warmte niet kan ontsnappen. Na verloop van tijd zet ik de verwarming op een lagere stand. Ik kan met de 10000 akku gemakkelijk op de hoogste stand 2x 30 minuten fietsen. Langer heb ik deze nog niet uitgeprobeerd.
Onlangs besteld en eventjes op moeten wachten maar is zeker de moeite waard. Uiteraard werd ik wel netjes op de hoogte houden over de vertraging en werden mijn vragen over het vest, na levering, prima, snel en duidelijk beantwoord.
Ik zal hier zeker nog bestellen !
Echte aanrader voor iedereen! Word zo lekker warm, gewoon eenvoudig onder mijn trui, stand 2 meer dan voldoende
Eerst de reviews gelezen en erop gewaagd, echt een warm vest. Met grote verwarmingsoppervlakken, niet meer koud tijdens het uitlaten van de honden.
Wat een heerlijk product. Voor heel wat collega's besteld, helaas nu uitverkocht. TOP warmte!
Heel vriendelijk ontvangen. Prima product.
ERg prettig dat het vest verstelbaar is en wordt heel warm, fijne powerbank bij geleverd
Op telefonisch aanraden voor het vest gekozen in plaats van de verwarmde trui. En inderdaad het vest word goe dwarm!!
Vest als kado voor mijn man, heeft er veel plezier van en gebruikt m dagelijks
Super snelle levering! Prima draagcomfort, is fijn onder een vest te dragen!! Zeer tevreden!!
Snelle levering. Product doet wat ze zeggen. Had zelf nog een powerbank thuis en daarmee wordt het product verwarmd.
Zeer positieve ervaring, snelle levering, netjes verpakt, de producten zijn top in orde!
Doordat het vest verstelbaar is past die goed, ideaal om onder m'n trui te dragen tijdens het skien. zit lekker
Hele fijne bodywarmer. Al een aantal jaar heb ik door mijn chronische aandoening last van onderkoeling. Deze body warmer heeft kwaliteit én is betaalbaar
Het vest verwarmd zowel voor als achter. Pluspunt dat je je eigen powerbank kunt gebruiken. Volgende dag in huis. Bedankt.
Duidelijke website, je wordt goed op de hoogte gehouden van de status van je (snelle) bestelling

Vliegensvlugge levering! Tevreden en zal zeker vaker bestellen.
Voor het eerst een verwarmde bodywarmer gekocht. Goed geholpen bij het maken van een keuze. Er werd meegedacht wat de beste optie zou kunnen zijn. Vriendelijk en klantgericht