Customers use many of our electrically heated cycling gloves. We regularly receive phone calls asking what the best heated cycling gloves are. Of course you can always call us for advice. But to make it easy for you, we have tested our cycling gloves with our products and put together an electric heated cycling gloves top 3!
Electric heated cycling gloves top 3
We offer different types of heated gloves for comfort products. This is how we distinguish the gloves, under gloves and mittens. You can discover here which cycling gloves with heating we think are the best!
1. Heated bicycle gloves
Our heated gloves Pro from Bertschat are most suitable for cycling in the cold. With heated gloves for the bicycle, the battery and thickness are especially important. The thickness is important to ensure that the glove remains well heated despite the cold wind. The battery ensures that the glove stays warm for a long time. The Bertschat Pros are the thickest in our range and also have the best possible battery. This makes it our best heated cycling glove.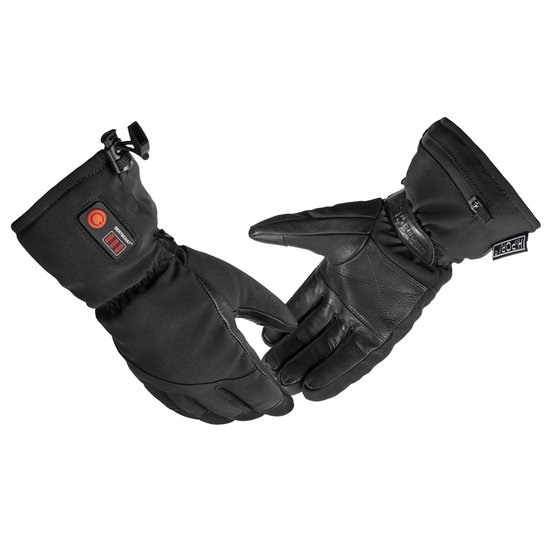 2. Heated underglove for the bike
Another frequently chosen heated cycling glove is the under-glove Pro, also from Bertschat. This glove is a lot less thick than the normal Pro but can also be worn under your normal gloves. The battery of the underglove is the same as the normal Pro. In combination with your normal gloves, you thus have very thick gloves, with an intermediate layer and a good battery. Guaranteed warm hands on the bike!
3. Heated mitts for the bike
Slightly less fashionable, but as connoisseurs know even warmer! Are our heated mitts for the bike. With mittens, your hands stay warm because your palm and fingers heat each other, and stay warm because of the warm outer layer. The outer layer of these heated mittens is also very thick, which protects you from the cold wind on the bike. Together with the good battery, this is therefore also a suitable solution. All of the above electric gloves are suitable for cycling. The top 3 has been formed in the opinion of us and our customers. However, which one is best for you also depends on your personal preference. View our full range of heated gloves here.
If you would like personal advice, do not hesitate to contact us.